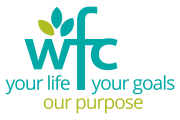 About Us
The Women and Families Center is committed to promoting equity and to improving quality of life through services that foster empowerment and independence.
Our guiding vision: To be the leading agent for positive social change.
Our History
The Women and Families Center began its history in 1889 as the YWCA of Meriden. The agency provided daycare and a variety of recreational and social activities for women and children in a small number of surrounding communities. Today, the Women and Families Center is a multi-faceted human service agency providing services throughout Middlesex County and the Greater New Haven area.