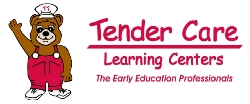 Our mission is to help children prepare for a lifelong love of learning by providing each child a quality early care and educational experience. We seek organizational excellence by providing high quality services that meet or exceed licensing and recognized industry standards. We are The Early Education Professionals!
We are one of the largest non-profit organizations dedicated solely to early care and education. To date, we have had 45 teachers in Pennsylvania and 22 teachers in Connecticut receive the prestigious National Child Care Teacher Award, including a National Child Care Teacher of the Year. We have achieved NAEYC Accreditation at 100% of our eligible schools, as compared to only 7% of all child care programs nationwide!
When you join Tender Care Learning Centers, you are joining a family that tenderly cares for children and parents as well as teachers and staff.
As one of our early education professionals, you will be given the opportunity to learn and grow. You will be treated with dignity and respect, and you will be encouraged to personalize your teaching experience.