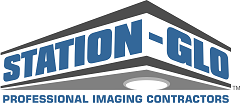 FAMILY OWNED & OPERATED THE OIL INDUSTRY'S LEADING FULL SERVICE IMAGING, PAINTING AND MAINTENANCE PROFESSIONALS ​FOR OVER 50 YEARS
CURRENTLY IN CT, MA , NY, NJ, PA, NH, ME, OH, RI
Gas Station Imaging
From Change-Overs to complete rebuilds of canopy fascia's, installation of acm, illuminated canopies and many types of vinyl graphics and pump imaging. We have the ability to design for unbranded locations.
ELECTRICAL & SIGNAGE
Our electrical work spans over the following areas...LED ID system installs, Placard ID system installs, LED canopy lighting and retrofitting, building and yard lighting. We can also provide service on all makes of placard and LED signs. We routinely install new systems from ground up we have certified techs for Able, Blair and Federal Heath.
PAINTING, SANDBLASTING AND POWER WASHING
STATION-GLO is versed in the usage of all aliphatic urethanes and industrial enamel coatings. All are U.V rated we handle all aspects of preparation, from sand blasting to 5,000 p.s.i power washing machines. All our employees have been trained in the usage of all products and equipment.