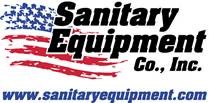 Are you looking for the last job you'll ever need?
We are an ever growing family owned business looking for
The kind of No Nonsense No Excuses Individual that knows
Customer Service and Satisfaction is Priority!
Sanitary Equipment Co., is Connecticut's Leading Refuse Equipment Dealer. We sell and service all types of truck bodies, Hydraulics Compactors and Balers.
We offer 401K, Profit Sharing, Medical, Vacation, Sick time and Holidays.
All our employees are long term (5-24 years). We are looking for the same!
Please see below for a list of our open positions!