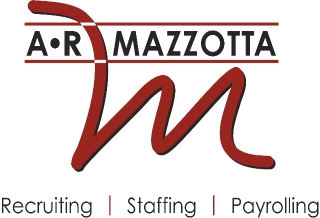 Helping You Succeed
A.R. Mazzotta wants to be your connection to successful employment. And as one of the top staffing agencies in CT, we can be the partner to get you there. Whether you're seeking a temporary/contract job or a full-time career opportunity, our caring and experienced team is here to find you the best job opportunities for your personal career goals.
Where Employees Matter
At A.R. Mazzotta, our reputation for excellence can only be upheld by people like you. So, in turn, we want to provide employees with every opportunity to succeed – with a satisfying work environment and great benefits that show you matter to us.
To help make your career success a reality, A.R. Mazzotta offers some distinct advantages over other staffing agencies, along with great employee benefits for temporary and contract employees:
Three (3) ACA qualified health Insurance plans from which you can choose.
Paid Time Off (PTO) – can be used for vacation, sick, and personal days or holidays not otherwise paid
Holiday pay – New Year's Day, Memorial Day, Independence Day, Labor Day, Thanksgiving Day and Christmas Day
American Automobile Association (AAA) Membership
Competitive pay with weekly paychecks and direct deposit
Tools and support services for growth opportunities
Multiple Locations, One Team
A.R. Mazzotta takes pride in our team culture. Behind each staffing professional is an entire team of experts, working together across our Connecticut offices in Middletown, Wallingford, Watertown and Westbrook. By joining forces as one team, and connecting and sharing information across all locations, we're able to deliver positive results for candidates throughout CT.
Dedicated Service Groups
We understand that no two job seekers are alike. We also understand that the different industries we help staff are quite unique, which is why the A.R. Mazzotta team is comprised of the Industrial Group and Professional/Office Group. Each of our staffing specialists in these groups understands what it takes to successfully hire talent in their specific markets.
Connect with us today!